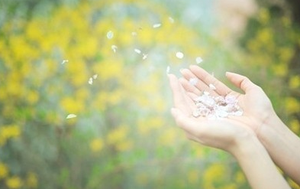 Again when the incense, is in a very crowded temples, such as the years before, I devout kneeling in smoke filled the hall, the house sunshine over everything, my tearful looked at in the world on the Lord Buddha, at that moment, I think people are ultimately guide listen to the Buddha's pious Buddha, if really can hear the depths of their hearts, then, the Buddha will lead a bright road let us without disasters go? This is a question worth pondering.
All this the world around is always opposite, the Buddha is the Buddha, who is from God, the fate of the Buddha, not own.
Like when the fall alone, parked in a quiet place, like that, like I can really see life from a bright light in the end, without a moment, just want some marks can float in this piece is not destruction of the earth. As a moment of youth, that is eternal. Lost is lost.
One wild thought is sad, no thoughts of the people is hopeless.
I think I don't need to go to create road. Although I still don't know where I walk on the road ahead, do not know who was waiting for someone, maybe one day when the thorns of the wilderness of flowers blooming in silence, I will use a measure of humility and sacrifice I walk away, to thank those in my life in the life, come and go one, they took my once, also gave me a new future. The road in his own feet, he needs to go out.
In the future before, I always felt no end in a section of the road, ready to wait for life to give all the grief, I just, when that moment comes in all, careful preparation is futile, like standing in the cold wind, cold water intrusion over the whole body, the bone chilling cold, always let you unexpected. It is only in the tint of the warm sunshine, one point one drying himself. And then, and then continue to go on.
Keep a experienced the vicissitudes of the Millennium City, etc. the life not to people, or, we should not add an invisible cage for ourselves, our hope and future in the distance, the flowers never dispersed place, heart.
So I always think, I put the lie to commitment, the cheat to stay even yourself.
Pass by the time slowly in the long span of years away, and only the one time shocking traces still there, in every dark and silent days constantly remind me, some people, some things have appeared in my life.